The following is an introduction to several common label printing forms:
1. Laser paper label
The laser paper label is formed by loading the laser holographic pattern or text signal on the surface of the aluminum paper after vacuum aluminizing and laser processing. The colors of the prints are brilliant, showing a changing rainbow effect under different angles and light.
The production process of laser paper is more complicated, high-tech content, large equipment investment, not easy to imitate, and can improve the product grade, artistic effect and anti-counterfeiting ability.
Laser paper has good lye resistance and lye permeability, good printing performance, suitable for offset printing, gravure printing and flexo printing, etc. It has good bottle labeling performance and good de-labeling performance when washing bottles.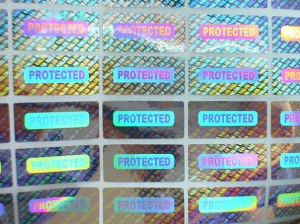 2. Environmentally friendly label
The environmentally friendly label is a special treatment on the surface of the printing paper used in ordinary labels, retaining the original characteristics of the paper, and is suitable for alcohol or beverage labels that use single-sheet paper wet glue labeling. On high-speed automatic labeling equipment, it can reach Superior labeling appearance quality.
The environmentally-friendly label has good ink holding performance and is suitable for wine and beverage manufacturers that use recycled bottles. The ink on the label can be retained on the surface of the paper during the bottle washing process, and the retention level is over 80%, reducing the need for bottle washing liquid. Pollution prolongs the use cycle of the bottle washing liquid, which plays a role of environmental protection and cost saving. Environmental protection labels are more susceptible to humidity, so you should pay attention to moisture-proof to avoid curling of labels due to humidity or bending caused by drying.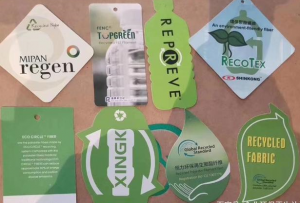 3. Pearlescent craft label
Because the pearlescent ink has the natural luster of mussel beads, the packaging prints can show the colorful colors like pearlescent gems, bring people elegant color enjoyment, and improve the product grade and taste. Pearlescent technology labels are also suitable for printing high-end packaging products, such as cosmetics, cigarette cases, food, medicines, etc.
Pearlescent process labels have bright colors and can show a strong metallic texture on waterproof paper or coated paper. The use of pearlescent process printing on label products can more realistically simulate the printing effect of aluminized paper, and partially reflect the effect of metal aluminized paper.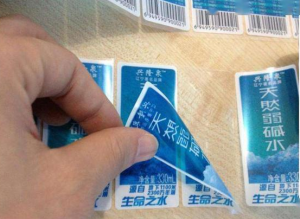 4. Imitation bronzing process label
The imitation bronzing process label can produce a highly smooth and high-gloss similar metal effect on waterproof paper or coated paper, making the printed product dazzling, rich and gorgeous. With gold, silver, red, light blue, dark blue, green, yellow and other colors, the printed products can be printed at one time, with high efficiency and low loss, and the printed products have clear graphics and rich layers, which cannot be achieved by the bronzing process. Part of it can replace the bronzing process and aluminized paper printing, suitable for printing high-end packaging products, such as cosmetics, cigarette cases, food, medicine, etc.
The golden part of the label is formed by one-time printing with golden ink, which replaces the hot stamping process. The production efficiency is high and the printed products are delicate and fine.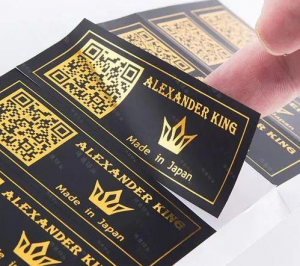 5. Crystal label
The plastic label is as crystal clear as crystal, hence the name. Plastic labels can be transparent where there is no ink coverage, and have a unique visual effect when they are attached to the transparent bottle, which can effectively enhance the intrinsic value of the product. It integrates high-tech, excellent performance and artistic taste, and is widely used in product labels such as wine and cosmetics.
Transparent adhesive is a kind of BOPP film, which is biodegradable and environmentally friendly, and is a member of the "green packaging". It has excellent physical and chemical properties such as water resistance, alkali resistance, abrasion resistance, tear resistance, corrosion resistance, sun resistance, and oxidation resistance. It is unmatched by traditional label materials such as waterproof paper, coated paper and aluminized paper.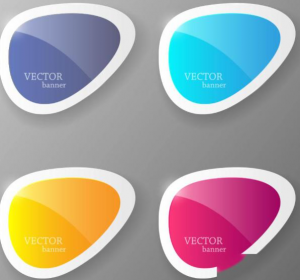 6. Temperature change label
Temperature-change labels are generally printed with temperature-changeable ink on the local patterns or signs of the label. The temperature-changing ink used is usually colorless at room temperature and presents color at low temperature. There are many choices of colors: none←→red, none←→green, and none←→blue. And the temperature range can be controlled from below zero to normal temperature. Because it is colorless at room temperature, its hidden information cannot be copied with scanners, copiers and other equipment. It has anti-counterfeiting function and can be easily recognized by the public without any equipment.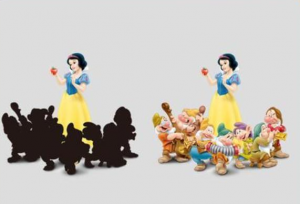 7. Luminous label
Luminous tags have the functions of absorbing, storing and emitting light, and can emit fluorescence in the dark after absorbing and storing light energy. The brilliance in the dark gives a strong visual impact and has a unique charm. It is more suitable for the label design of alcoholic beverages that appear in bars and other entertainment venues. Like the temperature change label, the luminous effect cannot be reproduced by scanners, copiers and other equipment. It has anti-counterfeiting function and can be easily recognized by the public without any equipment.